Wheelchair ramps can become safety hazards if it's raining, snowing, cold enough for ice to form, or even if the ramp itself is just plain slippery. If you, your employees or customers rely on a ramp to get around then it's extremely important that you take the proper precautions to help decrease the chance of an accident occuring on your ramp.
    519-220-9714                      
Government Regulations
The Ontario government has strict rules regarding the installation and use of wheelchair ramps in order to ensure the safety of its citizens. It's extremely important that you look into these regulations before you install your wheelchair ramp and that you keep up to date with the current guidelines. A simple summary of the most important regulations are:
Maximum gradient of 1 in 12
Minimum width of 900 mm between handrails
Level landings have be at least 1670 mm x 1670 mm at the top and bottom of the ramp

level landings must be provided where there is a door or an abrupt change in direction

Handrails must be continuously graspable along the entire length of the ramp, on both sides
Ramps must have wall/guard on both sides of the ramp

Minimum of 1070 mm high from the surface of the ramp
Make sure that you look into all of the regulations required for design a wheelchair ramp before you begin construction. For more information click here. For a better understanding of some of the Canadian regulations please take a look at the diagram below provided by Breaking Down Barriers Independent Living Resource Center.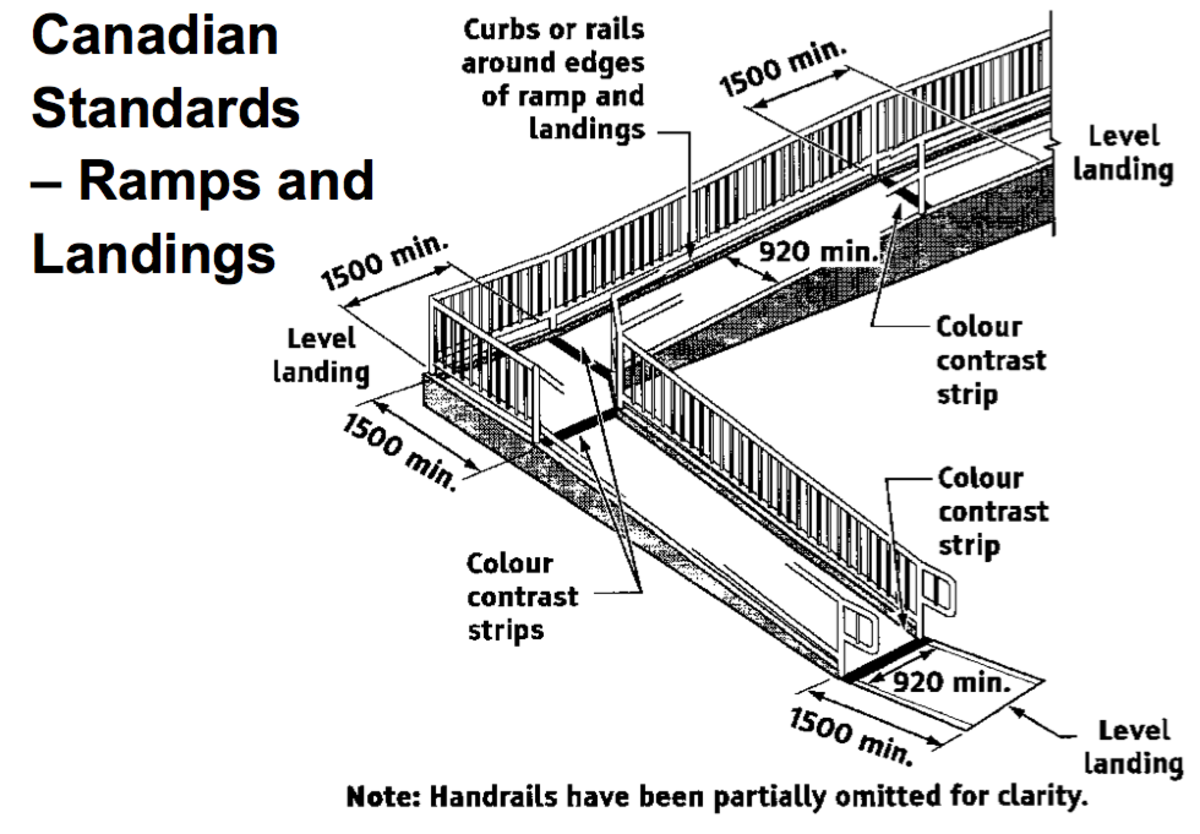 Anti-Slip Epoxy Coating
One way to keep your wheelchair functional is to use an anti-slip epoxy coating. Epoxy is a tough, long-lasting coating that can be painted directly onto your ramp that has many advantages:
It's most important advantage is that it is moisture and stain resistant, which helps protect your ramp from becoming too slippery and dangerous
You can also use an epoxy resin as spray on traction if it's particulary icy outside.
This flooring is impact and abrasion resistant, which means that you use your ramp as much as you want without worrying about creating more damage.
Resurfacing qualities

if your ramp is made of concrete and it is cracked, flaking, stained and worn down an epoxy coating will resurrect it
These coatings are self-levelling and provide a smooth, polished finish

Great way to refresh your ramp by choosing from a selection of colours or patterns
Garage Enhancements will take care of all of the concrete preparation that must go into getting an epoxy coating
Easy to clean

Epoxy coatings are stain resistant so dirt and oil will come off easily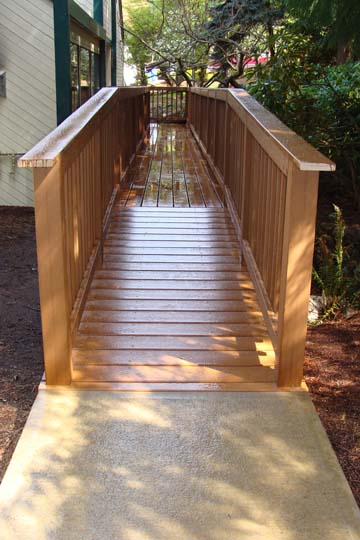 Keeping your ramp safe is an extremely important step to maintaing household safety and the well-being of yourself, your employees, and your customers. Taking the extra step to use an epoxy coating on your ramp can only help increase the overall safety of your business.